Stigmata (1998)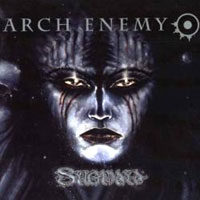 1. Beast Of Man
2. Stigmata
3. Sinister Mephisto
4. Dark Of The Sun
5. Let The Killing Begin
6. Black Earth
7. Hydra
8. Tears Of The Dead
9. Vox Stellarum
10. Bridge Of Destiny
11. Diva Satanica (Japanese bonus)
12. Damnation Ways (Japanese bonus)

Line-up :

Michael Amott : guitares
Christopher Amott : guitares
Johan Liiva : chant
Martin Bengtsson : basse
Peter Wildoer : batterie

Produit par : Fredrik Nordstrom



On retrouve dans ce second album la plupart des ingrédients de l'album Black Earth : gros riffs, chant death guttural, sur fond d'un son lourd mais toujours mélodieux. Les frères Amott continuent d'étaler leurs talents de guitaristes dans le monde du Death mélodique.

Let The Killing Begin révèle bien le côté trash du groupe suédois, alors que Black Earth et Tears Of The Dead portent plutôt le versant Death mélodique. L'instrumental Stigmata offre une pause sympathique dans ce déluge métallique.